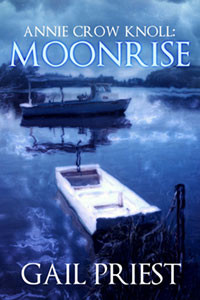 Recently I revealed the cover for my upcoming release ANNIE CROW KNOLL: MOONRISE, and it's getting a great reaction. I wanted to tell you a little more about how it came about.
Several years ago, my husband, photographer Gary Collings, did a series of Chesapeake Bay photographs using an old Polaroid camera. You remember the ones that spit the picture out the front of the camera, and you had to be careful not to touch the image until the dyes on the surface dried. Well, instead of allowing it to dry, Gary  manipulated the image using a stylist. Then he scanned the finished image into the computer, so he could print it in a larger size on his ink-jet printer. The final photo looked like a painting, and people loved it. He taught classes on this process to other photographers at Chester River Art Works (now Chestertown River Arts) in Chestertown, MD.
When I finished the first book, Annie Crow Knoll: Sunrise, I asked Gary if I could show his photographs to the creative team at Hayson Publishing. I sensed that one of these Polaroid manipulations would be perfect for the cover, and the folks at Hayson agreed. The talented Stephanie Nelson of Once Upon a Time Covers went over four or five of the photos and selected that first cover. When it came to Annie Crow Knoll: Sunset, she manipulated the color of the photograph to invoke a sunset, and the last one to look like evening at moonrise. This cover for Annie Crow Knoll: Moonrise is my favorite because of the mood and it has Packard's Chesapeake Bay Deadrise Workboat in it!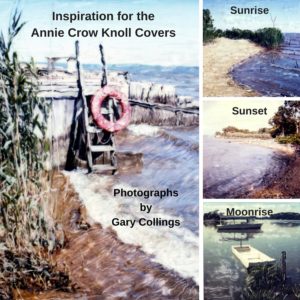 Here are some of the original Polaroid manipulations. Three of them became covers for the Annie Crow Knoll series.  You can see how the original photograph for Sunrise is pretty much the same, but the color was adjusted and enhanced for Sunset and Moonrise.
I'd love to hear what you think of the new cover!
You can also pre-order Moonrise at the following locations! It will be released on August 9th!
Amazon:   http://tiny.cc/uuu7by
Barnes & Noble: http://tiny.cc/gvu7by
iBooks:   http://tiny.cc/zxu7by
Kobo:  http://tiny.cc/ze5vcy