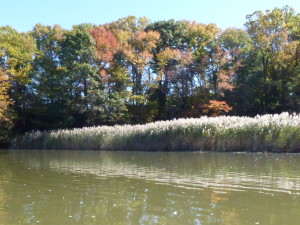 Autumn is my favorite season here on Annie Crow Knoll.  It's bitter-sweet because I am sad to see the rental season ending, but I enjoy the way the Knoll changes in the fall. It's a time of transition, which reminds me that sadness can't be avoided.  Summer has ended; winter is on the way, but I have learned to accept whatever feelings that brings up in me.  If sadness surfaces, I embrace it, along with the changes that are a part of autumn.
Although there is a drastic reduction in renters staying after Labor Day, I don't close up the cottages until the beginning of November.  It's what my dad always did.  Some of the retirees stay straight through.  A few die-hards still swim into the beginning of October, including me.  It's wonderful to get out on the water in a kayak at this time of year, too. The fishing gets serious now.  Anyone who enjoys catching rockfish is out in their boats every chance they get.  We always have a pumpkin carving party, so the cottagers with children make that weekend a priority. I love how the Knoll looks with lit jack-o-lanterns set out in front of the cottages.
Amid these activities, there's a sense of loss the closer we get to closing up, and once October is over, I have a lot of work to do winterizing the cottages. Now-a-days, the porches are enclosed with windows, so it's not as bad as it was when we covered every porch with sheets of plywood.  The place looked abandoned like that.  I think that bothered my mother a great deal when she was alive.  There is still a bit of a ghost-town feeling starting in November with no cars on the driveway and no lights in the cottages.  That part is difficult for me when I know winter is really around the corner.

However, the transition from summer to autumn on the bay is a sight. The evening skies are more dramatic because the sun has moved to the south causing the clouds to take on extreme shades of pinks and purples at sunrise and sunset.  The trees behind Cattail always seem to change color first.  I'll see little hints of that in September along the edge of the water up there.  There are maple trees along Packard's property that turn the most delicious shades of orange and gold in October.
I always grow pumpkins and gourds in my garden. I put them on the front steps of Sunrise Cottage, Packard's house and the School House Studio.  I decorate the entrance to Annie Crow Knoll with pumpkins, too.  I put small, interesting gourds around the cement crows on the top of stone pillars out there.  All those autumn colors against a crystal blue sky on a sunny October day make me giddy.
Along with the shift in the landscape, the birds are migrating.  Canada Geese moving at night call out to one another in reassuring honks.  The Osprey, Ruby-throated Hummingbirds and other birds have gone south, while the ducks that winter over here begin to arrive.
Most people might assume that summer is my favorite time of year on the Knoll.  It is a close second to autumn.  There is nothing more thrilling than sharing this property with my friends and family.  Grace has come out to stay every summer since my parents passed.  I've watched her family grow up and the families of people who have rented for generations.  The days are long with late sunsets over the water, and I love to swim.
So what is it about autumn that makes it top ever so slightly over summer?  It's because once summer arrives, not much changes in the landscape, but everything about autumn gradually shifts and evolves. The passage of time is more poignant, making it a great time to take stock of my life.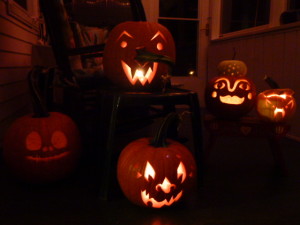 In the fall, I have a feeling of contentment that may go way back to my first season of running Annie Crow Knoll without my parents.  I remember feeling so proud that I had held onto the property that first year. So every autumn as the cottagers begin to pack up and the colors of the leaves pass through stages of yellow, orange and red, I am always aware of how grateful I am for all the gifts I receive from living here on Annie Crow Knoll at the headwaters of the Chesapeake Bay. *
You can read more about Annie and the Knoll in the first two books of this trilogy.
Annie Crow Knoll: Sunrise
Annie Crow Knoll: Sunset
To hear about the upcoming release of Annie Crow Knoll: Moonrise and special promotions, sign up for an occasional newsletter here!