Do you have some favorite films that you've watched several times? I have a collection of DVDs I watch every summer at the cottage we rent on the Chesapeake Bay.  After sixteen years, I know the dialogue by heart. My list includes Tootsie, Witness, Stage Beauty, all of the Harry Potter films, Sense and Sensibility (Emma Thompson version), Shakespeare in Love, The Big Chill, Bird Cage, The King's Speech, and On Golden Pond.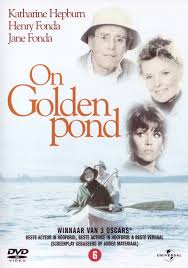 I saw the original Broadway production of On Golden Pond in 1979, shortly after my father died the previous November. I was twenty-five years old.  Although my dad and I had a much better relationship than the characters of Norman Thayer and his daughter Chelsey, I certainly had a boatload of unresolved issues with my dead father when I saw the play. That combined with Norman's angina attack in the last act (my dad suffered from angina and heart problems for years, with his first heart attack when I was ten years old), the performance with Tom Aldredge and Frances Sternhagen just about unhinged  me . . . in a good way. What I felt at the curtain was the beginning of my healing process, which took many years.  And I think I felt a hint of a possibility. Maybe I could write plays that moved an audience from laughter to tears and back like Ernest Thompson's play had that night.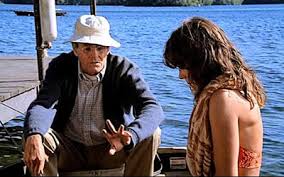 But back to the film version of On Golden Pond with Katharine Hepburn, Henry Fonda, and Jane Fonda.  Why do I watch it every summer? Since I was a child, I wanted a Golden Pond type cabin on a lake or cottage on a beach.  These many years renting our cottage at Evergreen Knoll became that for me.  In addition, my exploration of difficult family relationships in the Annie Crow Knoll series was likely influenced by the healing process that takes place between Chelsea and her estranged father at their family cabin on Golden Pond. The place of Annie Crow Knoll on the Chesapeake Bay certainly has healing powers.
I also watch the film because I'm reminded of my own father every time I see Henry Fonda in the role of Norman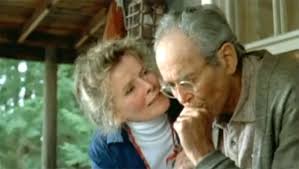 Thayer.  In this one moment captured in the photo to the right with Katharine Hepburn, I see my dad sitting there. The resemblance between Henry Fonda and Jerry Priest in that pose with his hand up at his mouth is remarkable.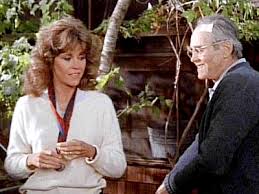 Every time I watch near the end of the film when Norman gives Chelsea his old debate medal, and she calls him "Dad" instead of "Norman," and then he reaches out to hug her for the first time, I cry.  I feel my father hugging me.  Luckily he was a big hugger, and I never felt neglected in that department until he passed and I missed his hugs.
As summer officially winds down this Labor Day, perhaps there's a movie you'd like to watch again. Tell me about the films you've watched several times and what they mean to you. Have a safe and wonderful weekend!
To learn more about the Annie Crow Knoll series, join my Facebook Group-Birds of a Feather!
Sign up for my fun but infrequent newsletter.
Visit my website for the links to buy the books. You can also click on the covers in the sidebar of this blog. The first book, Annie Crow Knoll: Sunset, is free!