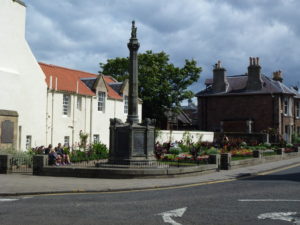 My husband and I just returned from a wonderful trip to Scotland. On the last full day of our vacation, we took a train from Edinburgh to North Berwick, situated on the south shore of the Firth of Forth. During our two weeks, I never saw a town in Scotland that wasn't charming, and we traveled through many places on our tour, but North Berwick was one of my favorites. I'm a water person, and it's a coastal town. I'm sure that had a lot to do with its appeal.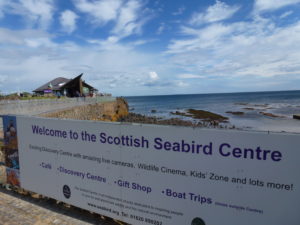 One of the highlights was our visit to the Scottish Seabird Center where we learned about the nesting seabirds in the area. I was specifically interested in the Atlantic Puffins and Northern Gannets that nest by the thousands on islands off North Berwick. The Seabird Center has live cameras to watch the birds. That was the only way we saw Puffins on the island of Craigleith. However, the Northern Gannets could be seen from the beach with the naked eye.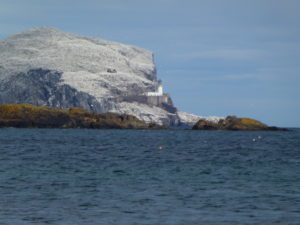 All that white on Bass Island isn't snow. It's over 150,000 gannets! What a thrill for me. Northern Gannets are my favorite seabird. I enjoy watching them migrating along the coast of Cape May Point, NJ in April every spring. I was blown away by the huge number of them on Bass Island. It is the largest colony in the world. You'll notice the light house in my photograph. There are also castle ruins with dungeons once used for political prisoners, including several Jacobites (think Outlander). They eventually overpowered the guards and held the island for three years.
There are boats you can take out to the islands. Alas, we didn't have enough time for that . . . this trip. Here's a YouTube link for a closer look at the Northern Gannet colony on Bass Island. https://www.youtube.com/watch?v=Of2AumcGBE0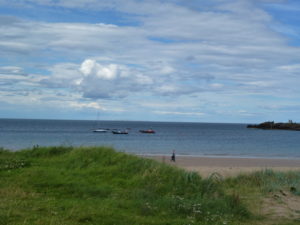 Lots of birds, great history, sea breezes, and I'm a happy traveler.