I recently had a young author ask for suggestions on how to get back into her writing.  She'd been away from it for several reasons, and now that she was able to recommit to it, nothing was working. She felt stuck and frustrated. She found herself starting things and not getting far before editing. Nothing was good enough. We've all be in this place at one time or another.  Here are three things that I have found helpful.
Negative Self-talk  
I pay attention to negative self-talk. It can be blatant or subtle. Either way, it kills any efforts. When it was habitual, I didn't even know I'm doing it. In order to become aware of it, I made a list of the negative things I was thinking on the left-hand side of a piece of paper. Then I turned each critical comment into a positive one in the right-hand column. Then I enjoyed crossing out each negative statement listed on the left. I became more vigilant about saying things to myself and my inner artist that I'd say to a child. I am kind, encouraging, nurturing, and patient.
Time Writings 
I set a timer for ten minutes. Often I use writing prompts to kick off the timed writing. I write without pausing to worry about spelling, grammar, punctuation, the "right" words, or anything else. I write stream of consciousness until I hear the buzzer. If during this time, I change point of view or topics, I keep writing in that new direction. I don't worry about anything.
Stop Editing 
Practicing positive self-talk and timed writings helped me to stop editing early in my writing efforts. The time for editing is later. I don't worry about creating a finished piece in the beginning. I just write. When I stop to edit, I kill the flow.  I also move from the creative mind into the critical mind which makes me more susceptible to negative comments about the writing or myself. I give myself permission to make mistakes in order to discover what emerges later without critique.  I keep writing.
I hope you find these tips helpful in your creative journey. Others have assisted me along the way, and I want to do the same. Below are two resources that continue to have a positive influence on me.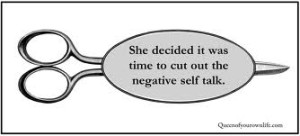 Bonnie Neubauer: The Write-Brain Workbook and Story Spinner
Julia Cameron: The Artist's Way and her many other books and resources on creativity
To hear about special promotions offered to my readers, sign up for my newsletter here!